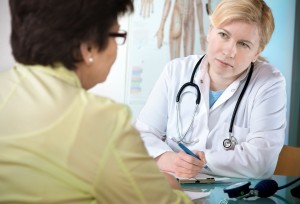 When you finally do get in to see your doctor, the time you have can seem fleeting. Here's how to make the most of it.
1. Keep a list of your prescriptions and your supplements on hand to review.
2. Before the day of, draw up a list of questions you'd like to ask and the symptoms or events that made you consider these questions. Rank the questions and ask the ones that are priority, succinctly.
3. Be sure the questions you plan to ask are relevant to the practice. If you are seeing your nutritionist, ask nutrition related questions rather than discussing chiropractic health. Consider the topics you've had success with previously with this doctor, and stick to those topics.
4. Be straightforward. Answer your doctor's questions directly and accurately, so that she or he won't need to press for more.
5. Be honest. Your doctor is not judging you; she or he is there to help.
6. Bring a notebook to take notes and be sure you don't miss anything.
Do you have any tips for a smooth doctor's visit? Share them in a comment!