By Ashley Watson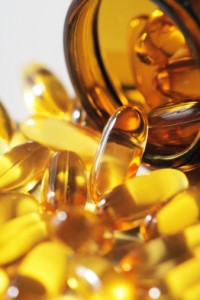 While there's been a lot of research on the importance of omega-3 fatty acids, many people don't realize that there are different forms of fatty acids in omega-3. It's important to raise awareness about the sources of these fatty acids because they function differently in the body. There are three main forms of fatty acids in foods and supplements that contain omega-3: eicosapentaenoic acid (EPA), docosahexaenoic acid (DHA) and alpha-linolenic acid (ALA).
ALA is the plant-based form of omega-3, and many vegetarians prefer to get their omega-3 from nuts, flax, and soy; however, the body cannot use this short-chain fatty acid until the body converts ALA into a long-chain version. While EPA and DHA are only found in fish and fish oil supplements, they are both long-chain forms of omega-3. This means it is easier for the body to utilize the acid since there's no need to convert EPA or DHA.
EPA and DHA in the Body
EPA is a 20-carbon chain, while DHA is a 22-carbon chain. This is a key distinction because of the role that EPA plays due to its smaller size. The other main difference between EPA and DHA is that they have different benefits for the body. If the goal is to reduce cellular inflammation, EPA is the recommended form because it closely resembles AA (arachiodonic acid, a pro-inflammatory omega 6 non-essential fatty acid).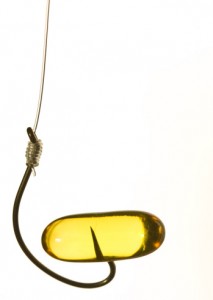 The presence of EPA can inhibit the production of pro-inflammatory mediators by competing for the same enzymes (cox and lox) that AA needs to generate an inflammatory reaction. This competitive inhibition results in the production of anti-inflammatory mediators such as PGE1 and 3 instead of the pro-inflammatory PGE2's. This means that the more EPA you have in the body, the less AA you produce. Because of its larger size, DHA cannot be easily converted into eicosanoids, which means DHA has a lesser effect on inflammation than EPA.
EPA is also important for neurological function because it may help to reduce neuro-inflammation, and EPA is rapidly oxidized in the brain. Compared to DHA, high levels of EPA in the blood may help to control cellular inflammation in the brain. When considering the research on depression, ADHD, brain trauma, and other neurological issues, EPA is the preferred over DHA in supporting normal brain function.
EPA and DHA in the Diet
Research has shown that a diet low in omega-3 (EPA and DHA) puts a person at a higher risk of heart attacks, strokes, and other health concerns related to chronic inflammation. In addition to vegetarians seeking non-fish sources, many consumers are concerned about the toxins that have been found in fish, such as mercury and lead. One way to ensure the purity of your source of EPA is to eat farm-raised fish, or buy fish oil supplements that are verified by IFOS (International Fish Oil Standards).
How do you ensure that you're getting enough omega-3 in your diet? Share your experience with us on Facebook.