By Ashley Watson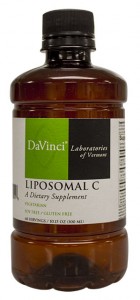 We are pleased to announce that Liposomal C by DaVinci® Laboratories is available again. Liposomal C now comes in a fruit flavored and citrus-free liquid that can be mixed into drinks or taken directly by mouth. In addition to a new and improved taste, Liposomal C features a new liquid emulsion delivery system that offers important advantages over existing methods of delivery.* You get a powerful serving of vitamin C in a liquid liposomal form that is designed for maximum assimilation and bioavailability.*
Liposomal C provides antioxidants to address issues caused by oxidative stress, and it supports the immune system by helping the body form red blood cells.* Read on to learn more.
Benefits of Vitamin C
When free radicals outnumber antioxidants in the human body, it causes oxidative stress. Vitamin C (Ascorbic acid) is an essential, water-soluble nutrient that acts as an antioxidant by protecting the body against oxidative stress. Oxidative stress can lead to many health challenges, including diabetes, hypertension, kidney stones and skin disorders.
Vitamin C is also a cofactor in at least eight enzymatic reactions. These include several collagen synthesis reactions. Vitamin C is found in high concentrations in immune cells, and is consumed quickly when the immune system faces a challenge. But getting enough vitamin C for these benefits can be a challenge, especially if citrus disrupts normal digestion.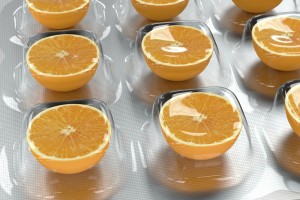 Not only is Liposomal C a vegetarian supplement; it is also citrus free. If you or your patients have an issue with citrus, Liposomal C is an ideal solution. Even if you don't have a problem digesting citrus, you have to consider how much vitamin C is available from an orange or a glass of orange juice. Typically, a medium size orange weighs a little over 4.5 ounces, and it contains about 70 mg of vitamin C. For larger oranges, that number increases to 100 mg of vitamin C. That may seem like a lot of vitamin C, until you compare it to Liposomal C, which contains 1,200 mg per serving!
Benefits of Liquid Emulsions
Liquid emulsions are a unique and delicious solution for patients who require large amounts of Vitamin C, or for patients who've had gastric bypass surgery and general gastrointestinal challenges. Emulsification increases the body's ability to absorb and digest the nutrients, making Liposomal C a highly effective product. In addition, the liposome has hydrophilic and hydrophobic sides to offer a fat and water portion. This allows vitamin C to be absorbed through the fat and water-soluble pathways for optimal utilization by the body.*
To learn more about this delicious and highly bioavailable formula, feel free to contact us any time. Don't forget to follow us on Facebook for more updates on product information.