By Ashley Watson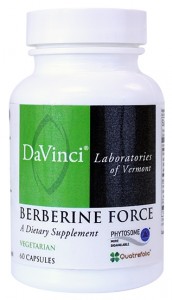 There's a lot of information on the web about the relation between homocysteine levels in the blood and cardiovascular health, and it can be confusing to a patient who is unfamiliar with this particular amino acid. That's why it's important to talk to your patients about how to maintain heart health, which includes eating a balanced diet of whole foods and getting regular exercise.
However, if you are a patient, you know that it's not always easy to get in enough fruits, vegetables and whole grains to maintain a heart-healthy diet. Before you add any supplement to your diet, it's important to speak with your doctor about your health goals and which supplements are recommended.
What is Berberine Force?
For patients seeking a supplement to support normal homocysteine levels and overall cardiovascular wellness, including normal blood pressure and cholesterol levels, ask your doctor about Berberine Force.* As DaVinci's newest formula to support cardiovascular health and normal blood sugar and metabolism, Berberine Force is patented with quality ingredients and a high bioavailability of antioxidants making it a cut above other Berberine options on the market. *
To understand the potential benefit of any supplement, it's important to look at the active ingredients with your doctor. Beberine Force has just four active ingredients, but each one supports several areas of health through various mechanisms to create a balanced and comprehensive formula. *
About Berberine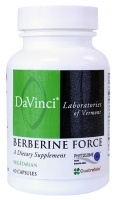 Berberine is a plant alkaloid that has been used for thousands of years in traditional Chinese and Ayurvedic medicine to provide antioxidant activity, immune system support and proper microbial balance.* Its relationship to cardiovascular support has been of high importance in recent years due to its ability to support normal homocysteine levels and cholesterol within normal ranges.*
Beberine supports normal blood sugar and blood pressure levels, cardiovascular health, cognitive health, and gastrointestinal health.* Through support of normal expression of the hepatic low density lipoprotein receptor (LDLR) and of 3-hydroxy-3-methyl-glutaryl-CoA reductase (HMGR), Berberine supports normal cholesterol levels and triglyceride balance.*
Quatrefolic®
Quatrefolic®, a patented proprietary ingredient, supports all five areas of health that BBR supports, through different mechanisms. Supporting normal homocysteine levels and methylation processes is important to supporting cognitive wellness, including behavioral health—Quatrefolic®, a glucosamine salt of folic acid that is superior to folic acid in bioavailability, supports these factors.*
LeucoSelect® Phytosome™ (Grape Seed Extract)
Leucoselect® Phytosome™ and R-Lipoic Acid are highly bioavailable antioxidant ingredients that take the Berberine Force formula to the next level.* Leucoselect® Phytosome™, a grape seed extract formula, supports a healthy inflammatory response, including that of the mucosal lining of the gastrointestinal system and that of the brain.*
R-Alpha Lipoic Acid
R-Alpha Lipoic Acid supports free radical neutralization and metabolic normalcy through various pathways, including through modulation of AMPK, which Berberine also supports.* Patients searching for comprehensive support for normal blood sugar levels, cardiovascular health, proper microbial balance and cognitive wellness will find Berberine Force preferential to other formulas on the market.*
To learn more about the many supportive properties and mechanisms of Berberine Force and its ingredients, read our white paper.
Have you or a patient used Berberine Force? Visit our Facebook page and let us know what you think!