By Karin Krisher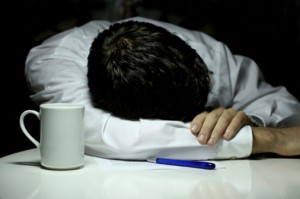 Evidence that an American productivity schedule (8 to 5) isn't ideal for maintaining productivity or motivation has been piling up for years. Now, the results of a survey of 7,288 physicians from June 2011 proves that doctors have it the worst: Physician burnout is reported at a much higher rate than the general population, with nearly 1 in 2 physicians reporting symptoms.
I use the word symptom loosely. We're not saying that every one of us who gets burned out has a malady that manifests in daily life. We are saying that doctors are being taxed—emotionally and physically.
The physicians surveyed were asked to fill out a questionnaire about burnout symptoms, such as emotional exhaustion, cynicism and loss of enthusiasm in work. The burned out are at risk for personal problems like addiction and depression, as well as professional problems, such as compromised care quality.
Writes Alexandra Sifferlin for Time.com, "The data showed that rates of burnout were high: 45.8% of doctors experienced at least one symptom of work-related burnout. When each symptom was considered separately, 37.9% of the physicians had high emotional exhaustion, 29.4% had high depersonalization and 12.4% had a low sense of personal accomplishment. U.S. doctors are burning out 'at an alarming level,' the authors write."
Front-line care practitioners, such as emergency physicians, internal medicine and family medicine, had the highest burnout rates, while doctors of pathology, dermatology, pediatrics and preventative medicine had the lowest rates.
There's more: Physicians work an average of 10 hours more per week than other people. While only 10.6 percent of the general population admits to working 60-hour (or more) weeks, 37.9 percent of physicians (the same percentage that reported emotional exhaustion) said the same.
The authors of the study published in the Archives of Internal Medicine proposed no real solutions for the issue of burnout. But we're wondering if you have any tips.
Are you personally experiencing physician burnout, or burnout from another profession? What have you found to help you deal with these feelings? Share your story in a comment.