By Ashley Watson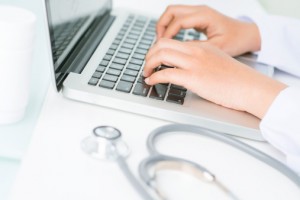 Last week, we covered reasons you should use social media to enhance your practice and educate patients in Part I of this two-part post. This week, we will go over the basic platforms that you need to get started, how to use social media to your advantage, and ways you can do this efficiently. If you think that your schedule is too busy, or that you don't feel comfortable using social media without a consultant, you may want to consider hiring a social media specialist or marketing intern.
LinkedIn
Many doctors have a LinkedIn account, mostly because this platform is designed for professionals. LinkedIn provides you with an opportunity to connect to other practitioners in your field and connect to forums that help you keep up with what's new in healthcare. It is an extremely valuable tool for any profession that is affected by new research and changing practices.
You can also "endorse" other doctors for special skills and keep up with the achievements of your colleagues. But this professional tool does not give you the same education and outreach potential as a popular social platform, such as Facebook or Twitter. At the very least, you should have a LinkedIn account for your practice.
Facebook and Twitter
If your practice does not have a Facebook or Twitter account, it's time to consider joining. While it's still gaining ground in the social media world, you should also consider a Google + account. Some people who still refuse to use Facebook due to privacy issues (which is a topic for another post) will only use Google +. However, both platforms work in a similar way in terms of posting information, notifications, and the people you share your information with. There are plenty of useful online tutorials to help you get started.
Facebook can also be used in lieu of a website (though it's a good idea to have one), as a good way to list your contact information, location, and announce changes in your schedule, timely vaccination reminders, such as the flu vaccine, and any updates to your practice. It's also a great place to share links of interesting articles or informational blurbs about supplements, any new products that you've had success with, and many other small bits of information.
It's important to post often, as much as three times a day, but at least once a day. The same applies to Twitter. This will help ensure that you get into various newsfeeds. Encourage your patients to like you on Facebook and follow you on Twitter. This will help gain a larger presence for your practice.
Blogging
Starting a blog site is one of the easiest and quickest ways to stay connected with your patients. While we recommend WordPress because it is user-friendly and provides SEO tips, there are plenty of other free blogs out there. If you already have a website, then you can add a link or tab on the home page so that your viewers can easily see it and get to the blog site. You can see an example of this on the DaVinci® Laboratories home page.
Once your reader has been redirected to the blog, then you can include a link to your main page at the top, as we have done here.
Without getting into too much detail, linking back and forth from your blog and your main website can increase traffic to both. But even if you are not interested in expanding or attracting new patients, a blog is a great way to educate a larger audience. Dr. Kevin Pho, MD, has one of the largest followings for a medical blog. You can see some of the information he posts here. From social media in the medical world to healthcare discussions, you can find blog posts and articles written by a variety of writers and doctors.
If you haven't already, like us on Facebook, or check out our Google + page to see what's new at DaVinci® Laboratories.