By Ashley Watson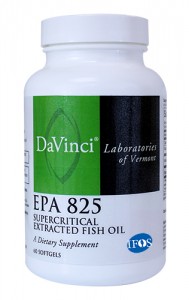 While your patients may already know that maintaining a healthy lifestyle includes eating well, getting enough sleep, exercising, and drinking plenty of water, they may not always take your advice. But even if they do, environmental stress, such as work and finances, can take a toll no matter how much people pay attention to their mental and physical well-being.
Sometimes, a little extra support is needed to maintain proper mental and physical balance. That's why DaVinci is proud to introduce our new, high quality EPA 825 Super Critical Extracted Fish Oil. This omega-3 formula contains solvent-free, essential fatty acids to support normal immune system function, proper mood balance, and a proper inflammatory response, as well as support for cardiovascular health and normal brain and nerve function.*
With growing concern over potential metals and other contaminants in wild caught fish, many consumers are hesitant about purchasing certain fish or fish oil products. Unfortunately, this eliminates a large source of omega-3 fatty acids. Part of what makes EPA 825 unique is that the fish oil is verified by IFOS (International Fish Oil Standards).
Any omega-3 fish oil product that has been verified by the third-party testing program through IFOS must match the label claim for EPA and DHA, as well as meet the safety standards for environmental contaminants set by the Council for Responsible Nutrition (CRN) and the World Health Organization (WHO).
The IFOS Program tests fish oil products for the following:
Essential fatty acids
Oxidation
Mercury
Cadmium
Lead
Arsenic
Dioxins and furans
PCBs
Acid value
The source of the Omega-3 fish oil in our EPA 825 comes from non-endangered, wild caught anchovies and sardines. The oil then undergoes a critical CO2 extraction process that does not use hexane, ethanol or other solvents. This helps maintain purity, bioavailability, concentration and stability.
Using CO2 to separate the omega-3 from other parts of the oil, such as saturated fats, free fatty acids and cholesterol, protects the oils from oxidation. This process also purifies the oil by more effectively eliminating most of the contaminants present in the raw oil. Each 1gram soft gel contains 825 mg of EPA in one small dose.
Omega-3 fatty acids are important to health, especially for the heart, brain and cell membranes of the body.* The combination of purity and high EPA yield in EPA 825 Super Critical Extracted Fish Oil provides balanced support for a proper inflammatory response and proper mood balance in a way that many fish oils can't.*
Where do you get your omega-3 fatty acids? Share your experience with us on our Facebook page.