By Karin Krisher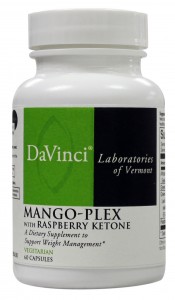 You know that when your patients come to you with health concerns, it's important to examine every possible cause. Weight gain and generally unhealthy lifestyles that lead to weight gain are often on the top of your list.
While DaVinci has always had a space on our shelves for serious weight management support options, it wasn't until we discovered the value of African mango seed and Raspberry ketone that we were able to create a truly mastered formula.* Mango-Plex with Raspberry Ketone is a capsule formula designed to support one of the most crucial pieces of maintaining a good, healthy diet: appetite control.*
Four active ingredients make this capsule a cut above the rest. African mango seed, raspberry ketone, green tea extract and green coffee bean extract all offer support for weight management and appetite control.* How?
Through supporting favorable changes in the hormones that control appetite and the conversion of sugar into fat.* Known as adiponectin and leptin, these hormones can be huge factors in weight gain and weight management barriers. African mango seed extract supports favorable changes in adiponectin and leptin that lead to support for appetite control.*
This support doesn't mean you'll waste your meal when you take Mango-Plex just before eating—only that your normal cravings that follow may lack their normal power, helping you stay on the straight and narrow.
When it comes to supporting weight management efforts, raspberry ketone is one of the good guys.* There truly is a reason why it's so popular.
By supporting the production of adiponectin, the hormone that increases metabolism and modulates glucose regulation, Raspberry Ketone supports appetite control.* In the human brain, leptin and adiponectin are tightly linked to appetite and metabolism. Fruits that support the body's ability to make these hormones are the perfect complement to a healthy lifestyle.*
The other ingredients in Mango-Plex—green tea extract and green coffee bean extract—support thermogenesis, appetite control (quadruple threat!) and energy.* They're also both excellent sources of antioxidant compounds, like the well-known EGCG, a polyphenolic compound in green tea that supports healthy blood insulin levels.*
Green coffee bean extract also supports metabolism in order to burn a higher proportion of lipids to carbohydrates.* Further, it contains both caffeic and chlorogenic acids. While caffeic acid provides a safe energy boost, chlorogenic acid helps to slow the body's release of glucose into the bloodstream, thereby supporting normal fat absorption duration.*
Now that you've got the basic supportive qualities of these ingredients down, it's time to start thinking about how Mango-Plex can help support your patients' and your practice's health.* Read our white paper on this innovative formula for more information.
Have you tried Mango-Plex with Raspberry Ketone, or any weight management support product that contains raspberry ketone?* What did you think? Share your story on our Facebook page!
*This statement has not been evaluated by the Food and Drug Administration. This product is not intended to diagnose, treat, cure or prevent any disease.