We're back with another opportunity for you to get to know one of our fantastic employees. This week, Deb Clark told us about her commitment to health and why she loves this job!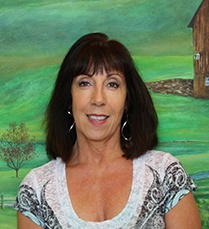 Q: How long have you been working here?
A: I worked here for three years back when we didn't have computers and we tracked everything by hand. Since I couldn't stay away I am back and have been here for over a year!
Q: What's your favorite part of the job?
A: Getting to know my clients' needs and building on relationships. I have to admit I have been known to hold on to a territory just because I don't want to lose some of my favorite clinics, doctors and office managers!
Q: What is your personal commitment to health?
A: It sounds silly but as an older woman, I refuse to give into the excuses that my metabolism is slowing down or my hormones are to blame. I try to keep my energy levels up and my weight and strength at appropriate levels through supplementation and varying my fitness regimens. Now, if it weren't for all the great bakers here at DaVinci I wouldn't need so much Mango-Plex!
Q: What is your favorite supplement?
A: Infinite Nutrition—the name says it all!
Q: Where did you grow up?
A: The Northeast Kingdom, St Johnsbury, VT.
Q: What is something people might not know about you?
A: I wish I were a famous dancer! Martha Graham would do.
Thank you to Deb for sharing her stories! Have another question for Deb? Share it on our Facebook page!