By Karin Krisher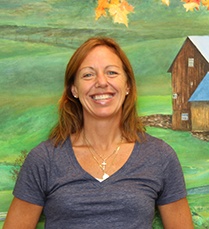 It's that time again! In our Meet Your Account Rep series, we introduce you to one of DaVinci's best and brightest. This week, we're featuring Nan Payson, who is a picture of health and a perfect addition to the DaVinci team.
Q: What brought you to DaVinci?
A: It was a natural progression in my career. Having spent years working in the Health and Fitness Industry, I felt I could bring my years of supplemental use and recommendations to a new level.
Q: What is your favorite part of the job and why?
A: The best part of the job, besides my fantastic co-workers, is having the opportunity to try new products before they hit the market. It is fascinating to see the process from start to finish.
Q: How would you summarize your personal commitment to health?
A: My commitment is extensive. There isn't anything athletic I wouldn't try. (I just got offered the chance to go snow kiting on the lake, and of course I said yes!) The commitments I have made to live healthy (daily exercise and clean eating) have instilled great values and passion in myself and (most importantly) my three kids.
Q: What's your favorite supplement? What do you like about it?
A: Cardio-DMG Chewable. I tend to be cold all the time, and I have personally experienced some great circulatory benefits with the supplement. Plus I love the taste—co-workers joke because I call it my mid-morning snack!
Q: Where did you grow up? What did you love about it?
A: I grew up in Watervliet, NY, about 5 miles outside of downtown Albany. The best thing was the Italian bakeries and butcher shops. It's a 518 thing.
Q: What is something people might not know about you?
A: Vermont was supposed to be a temporary place in 1995. Do the math. I'm still here!
Give Nan a call to find out more about her commitment to wellness or to place an order. (For Cardio DMG, perhaps?)