By Ashley Watson
According to a recent report from National Public Radio, there's a rising number of new mothers who choose to breast-feed, and in 2010, approximately 75% of new mothers were breast-feeding. Additionally, more mothers are breast-feeding for longer: "Almost 50 percent of babies are still being breast-fed at least sometime at 6 months of age," the report states, "That's up from 35 percent in 2000. The number of babies breast-feeding at 12 months also rose, from 16 percent in 2000 to 27 percent in 2010."
However, this is still a sensitive topic for many women, especially for those who do not breast-feed by choice. In many cases, women are simply not informed about some of the health benefits of breast-feeding, despite the attempt to educate new mothers—at least according to the NPR report. What are the benefits?
The U.S. Department of Health's web page for the Office on Women's Health recommends breast-feeding over formulas for several reasons, mostly because breast-feeding helps prevent many diseases, including Type I Diabetes. The web page also states that breast milk is easier for infants to digest, and that breast-feeding is actually more convenient than sterilizing bottles and that it can also save money.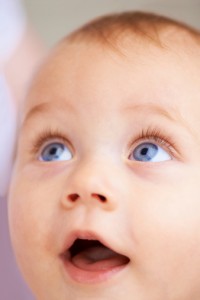 The Office on Women's Health suggests that the colostrum found in a new mother's breast milk is the number one reason to breast-feed. Colostrum is made during pregnancy, and it is the thick, yellow breast milk that's produced immediately after birth. Colostrum is loaded with the nutrients a newborn needs to stay healthy, and it also contains antibodies to help build immunity to various illnesses.
But according to the same NPR report, some hospitals and birth centers are still recommending formula to new mothers, and many of these facilities give healthy new moms formulas for their newborns. The reason for this is not clear, but some women argue that the challenges of breast-feeding—such as sore nipples, low milk supply and clogged ducts—outweigh the benefits. While there are several potential challenges, there are plenty of resources for new mothers to help them overcome these issues.
Given all this evidence, along with the easy-to-access education and resources for new moms, why are there still so many women who refuse to breast-feed, or give up after a 6 months or less? This has a lot to do with individual experience.
The comment section in the NPR article reveals many reasons behind a new mother's choice to use formula over breast-feeding, even though there's so much research that supports the benefits of breast-feeding. Many mothers who commented on the post said that breastfeeding was "difficult" and "uncomfortable," and a large percentage of new moms stated that it was "time-consuming" and "isolating."
Working moms also report that the lack of flexibility at the workplace is usually the determining factor on whether or not to nurse. This is part of what may create some of the strong emotions involved in this debate. One woman expressed her feelings about seeing formula insulted online, especially by new moms on Facebook. It makes it difficult for mothers who choose to feed their newborns formula; they feel judged even though the person making the remarks may not have all the facts.
Even just reading the heated comments and responses in the NPR post, it is apparent that there remains a lot of tension on this subject. At DaVinci® Laboratories of Vermont, we are dedicated to helping women and children live healthy lives through education. We'd like to know your thoughts on this matter—whether you are a health practitioner, or a new or expecting mom. Your opinion could help shed some light on why breast-feeding continues to be a controversial topic.
Doctors: Would you recommend breast-feeding to a patient? New or Expecting Moms: What are your thoughts on breast-feeding? Please visit our Facebook page and share your thoughts with us.