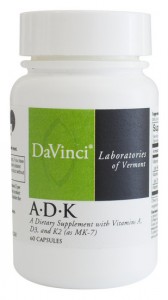 By Ashley Watson
In the last two weeks, we posted a two-part blog post about bone health based on an interview we were invited to partake in for Whole Foods Magazine. Last week, we discussed compliance and trending supplements. This week, we would like to discuss our own unique bone health supplement. DaVinci® Laboratories, we pioneered the use of N, N-Dimethylglycine (DMG) in nutritional supplements, and over the years, DaVinci® has received several patents for DMG's beneficial effect in the areas of immune response and cell support. This week, we discuss the combination of DMG with Perna for bone health support, along with the importance of education when choosing a bone health supplement.
Bone Health Cocktail
If you are looking for any minerals, vitamins, herbs, or other nutritional supplements at the cutting edge of bone health, you have several options. While there is no single "ideal" supplement for bone health, the combination of nutrients and delivery systems definitely play a role in find a supplement that works for each individual's health needs. For instance, we recently developed A • D • K, which combines vitamins A, D3, and K2 in a supplement that supports calcium utilization with the side benefit of support for cardiovascular health.*
What makes many of our bone and joint products unique is the inclusion of our flagship ingredient, N,N-Dimethylglycine (DMG). DMG is a naturally occurring amino acid derivative and a methyl donor that supports the body's metabolic processes.* We have combined DMG with our Perna canaliculus (GlycOmega™ brand) green-lipped mussel from New Zealand (along with other highly-researched ingredients) to provide a wide array of products to supplement joint comfort and hydration.* We also make specialty products for people looking for specific bone health properties, such as bone structure, strength, and growth, as well as general joint health.
Bone Health Education
If you are looking for a bone health support supplement, we cannot stress the importance of education enough. First, keep in mind that there are other factors involved in bone health, such as diet, exercise, amount of sleep you get, family history, etc. But we always recommend maintaining a healthy lifestyle to offer greater support for a patient's overall health. Without a balanced diet, quality sleep, and regular exercise, bone health supplements won't provide their full potential for support. Minimizing unhealthy habits in young adulthood can also help prevent issues as the body ages. However, keeping up with health trends, speaking with your doctor, and educating yourself on how vitamins and minerals work in the body is also key.
Other Bone Health Support Supplements

As always, we recommend that consumers speak with a doctor before taking any new supplement or multivitamin regimen. A doctor who knows a patient's specific health needs will know which nutrients may need extra supplementation. In addition to the joint supplements listed above, we offer specialty drink mixes for efficient absorption. Enz-Flame™ is a delicious orange flavored drink mix that combines 13 ingredients that work together to support comfort, mobility, and flexibility.*
Perna Pro® is another supplement to support proper joint and muscle function." It combines manganese, Perna canaliculus, glucosamine sulfate, methylsulfonylmethane (MSM), and Boswellia serrate extract for mobility and comfort.* The added Boswelia acts as a free radical scavenger for additional support.* We offer a variety of supplements that contain calcium, magnesium, glucosamine, MSM, DMG, Perna, and a multitude of multivitamin and mineral supplements to provide basic bone and joint support for optimal health.*