If you've ever been to the chiropractor then you know just how satisfying and fulfilling your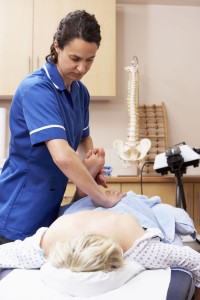 time there can be. Why not extend your experience with holistic care beyond the office? There's an easy way: Just talk to your chiropractor about supplementation.
There are many supplements that could fit on your chiropractor's office shelf—and in your cabinet for support when you're far from the office. Here are our five top choices for those you should mention:
1) Disc-Discovery®
We are huge fans of this supplement because of how specific to spinal health it is. DaVinci formulated Disc-Discovery® to support the health of the spine and the intervertebral discs.* It contains 14 synergistic nutrients that focus on the synthesis and restorative processes of spinal connective tissue.* With bovine tracheal cartilage, manganese, calcium, magnesium and other nutrients, this formula is a cut above the rest.
2) Serenity Now
This delicious chewable is one of DaVinci's most popular supplements to support stress management. It's fast acting, so I chew one tablet about 15 minutes before something nerve-wracking. Serenity Now features l-theanine (Suntheanine® brand) and Lactium®, which work synergistically to support relaxation and better concentration.* Every chiropractic office should have this in quick supply – and if your doc doesn't, but you want it, it's a perfect addition to your talking-points list!
3) Perna® Plus
DaVinci's been working with Perna for over 35 years. Perna is a green-lipped mussel from New Zealand that supports joint function.* We include the whole food organism in our supplements, so all of the health-building factors are present in the Perna® Plus formula.* Plus, there's added DMG, MSM, glucosamine and manganese to support mobility and comfort.* That should capture your doc's attention!
4) Mega Probiotic-ND™
We know by now how significantly gut health impacts your mental states and other bodily processes. We also know that to truly receive holistic care, you must care for all parts of your body, as each piece is so integrated. That's why Mega Probiotic-ND™ is an ideal supplement for your chiropractor to provide.
With multiple, varied strains of live bacteria and prebiotics, as well as 15 billion colony-forming units per serving, this capsule product has it all. It supports digestive health and regularity, as well as a normal microbiota balance.*
5) Enz-Flame™
Enz-Flame™ includes 13 synergistic ingredients to support overall joint and muscle comfort, especially that associated with aches and pains due to overexertion.*
If you're active and looking for added support for comfort and flexibility, this is the perfect drink mix to mention at your next appointment.
Enz-Flame™ is a sure bet.* The formula has a few stars and supporting characters, but Cetyl Myristoleate takes the lead. CMO supports cell membrane lubrication and joint comfort.*
Have you ever spoken with your chiropractor about beginning a supplement regimen? Does your chiropractor already provide this guidance? Share your story on our Facebook page.