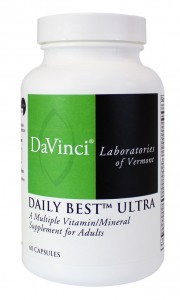 Moving from winter to spring, we're always looking for simple supplement solutions. We're thinking strategically: how do we get the most out of one formula? Which ones are good to take on the go? How do we get everything done and still have time to stay on top of our health?
So this week, we decided to take a closer look at our favorite comprehensive supplement choices. These choices are all-in-ones, but they're still specific to individual regimens, meaning you could choose more than one if it fit in for you. Of course, we always encourage talking to your doctor or nutritionist before starting any new regimen.
Daily Best™ Ultra is designed for adults who aren't interested in taking several tablets, but do want an all-in-one multivitamin and mineral option. In one capsule serving it combines 26 nutrients including:
- Active form of Vitamin B12 (methylcobalamin)
- Active form of Vitamin B6 (pyridoxal-5-phosphate)
- Quatrefolic® ((6S)-5-methylfolate, glucosamine salt)
- Coenzyme Q10
- Alpha Lipoic Acid
- Lutein, Lycopene and Zeaxanthin
It supports energy levels, eye health, cardiovascular health, liver health, metabolic functions like proper blood glucose levels and a lot more. It's an economical choice for anyone interested in a capsule multivitamin.
2. Spectra Infinite Nutrition
For anyone who wants the kitchen sink without a single pill, there's Spectra Infinite Nutrition. DaVinci's master formula offers 70 nutrients in a drink mix powder.
Loaded with vitamins, minerals, anti-aging nutrients, fiber, probiotics and free radical scavengers, this powder offers support for every function, including:
- Immune*
- Cardiovascular*
- Bone*
- Vision*
- Digestive*
- Adrenal*
- Joint*
- Mental clarity*
- Skin*
- Maintenance of blood lipids and glucose within normal ranges*
Learn more about this nutrient-packed powder here.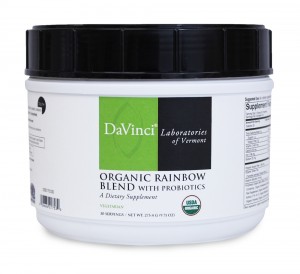 3. Organic Rainbow Blend with Nondairy Probiotics
This formula offers something a bit different than a traditional multivitamin approach. As a comprehensive fruit and vegetable drink mix, Organic Rainbow Blend is ideal for anyone regularly on the go who also wants to capitalize on the power of fruits and vegetables to add energy support to their regimen.*
Active ingredients in this delicious, fruity mix are at optimal levels to help control free radicals and support cell protection and healthy aging.*
Some key features:
- A rich, unique and colorful blend of organic red, green, orange, blue and purple fruits and vegetables
- A source of organic Acacia Fiber, Green Tea, Spirulina and herbs
- Certified Organic**
- Made with non-GMO ingredients**
- Designed to support whole body wellness*
These three aren't the only comprehensive formulas in DaVinci's roster, but they are three of our favorites as we head full tilt toward spring. What's your favorite all-in-one supplement? Share your answer in a comment!