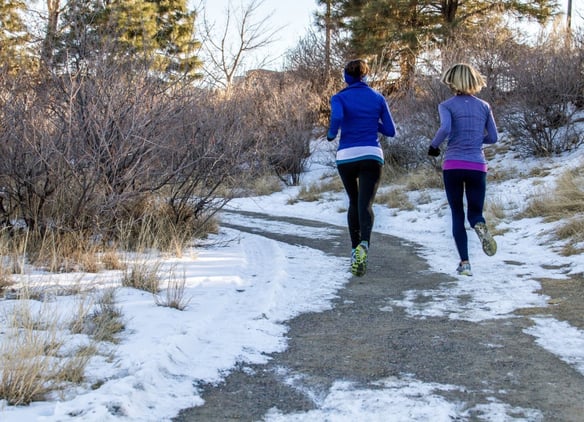 Winter is practically at our doorstep and we'd love to stay inside by the fire. But a love for fitness has a way of trumping even our deepest desire for creature comforts, leading us to leave the doorstep in the flurries.
If your routine won't quit when abysmal weather arrives, here's what you need to know to prep for winter running:
1. Bring the light
Low light during the day and shorter durations of light mean you might not be seen as you hit the road. Purchase reflective and fluorescent running gear, and throw in a headlamp or wrist lights for good measure.
2. Gear up your feet
Less mesh = less wet. If you can find a pair with Gortex, that's a sure bet. The other armor for your feet, socks, can be a tough pick. We suggest the type that both wick away moisture and hold in warmth. The most popular pick? SmartWool.
3. Play dress up
If it's your first winter on the road, nailing the right outfit might take a little experimentation. Generally, experts suggest you dress as though it's about 20 degrees (F) warmer than it actually is. When shopping for clothes, look for lots of vents and zippers – they help minimize layering and maximize cooling. Always protect your extremities; hands and head should be covered.
If you are wondering how to dress when it's -20 degrees, we're thinking a robe and a mug sounds like the perfect outfit for your day indoors.
4. Become friends with the wind
Before you kick off the new season, start thinking of the wind as your pal. Check out the weather and the wind direction when you're about to venture outside, and start by running into the wind. After you've broken a sweat, you'll want the wind at your back.
Another option is to switch things up by breaking your run into segments. Run into the wind for 10 minutes and then turn tail and keep at your back for five. Repeat as many times as you'd like. To protect your skin from the wind, consider Vaseline or other lubricants designed for this exact purpose, like Body Glide®.
5. Nail your pre-run routine
If you like to get into a habit piece by piece, nailing down your warm up routine is a good way to prep for winter runs.
Warm up with light housework or a few stair climbs at home before you venture out.
If you drive to your location, dance around a bit in your car to up your body temp. Whatever you decide to do, knowing the steps before that first run helps things go smoothly.
6. Nail your post-run routine
After a run, it's easy to flop down on the first surface you find and wallow in your pain while celebrating your accomplishments. While it's easy, it's not the best thing for post-run safety during the colder months.
Instead, strip as soon as you get indoors. Because your body temp drops immediately after you stop running, and you could be wet from sweat, it's important to get rid of your exercise clothing quickly. If you drive to your running location, keep an extra set of clothes and a thermos of tea in the car.
If you haven't taken your first winter run yet, these tips are a perfect jumping off point. If you're an expert in the field, share your thoughts about the best way to prep on our Facebook page, and consider other ways to prep for the cold starting now.