By Ashley Watson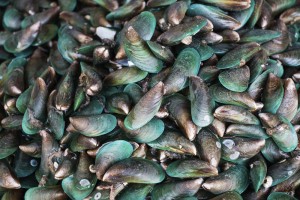 Many of our product descriptions on our website and sell sheets use the word, "synergistic," to describe how the ingredients work together. While many people may understand the basic definition of synergy, the people who are interested in our products may not fully understand how we have specifically designed our products with ingredients work together to provide the end result. The combination of Perna and DMG is a perfect example, and you can read a little about that in this recent blog post. This week, we explain how we choose the ingredients in a joint health supplement that is carefully designed to be the sum of its parts.
Part of what makes the DaVinci® joint and muscle support products unique is the inclusion of our flagship ingredient, N,N-Dimethylglycine (DMG). DMG is a naturally occurring amino acid derivative and a methyl donor that supports the body's metabolic processes.* For instance, we have combined DMG with Perna canaliculus (New Zealand green-lipped mussel), along with other highly-researched ingredients to offer a complete joint health product.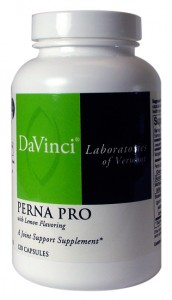 Perna® Plus features manganese, Perna, glucosamine, MSM, and DMG. Each of these ingredients has a unique role in providing support for joint health. Taken alone, or trying to get the right amounts simply from your diet, would not create the same results as the combination of these specific ingredients. Here's a breakdown of their synergistic properties.
Perna is a rich source of amino acids, protein, naturally chelated minerals, and glycosaminoglycans (GAGs), including chondroitin -4- and -6- sulfates.* This is partially why we do not add chondroitin to our joint products. It is a naturally occurring substance found in Perna, and we've found that sourcing it can be difficult, as many forms of chondroitin are unstable. It's also partly why we use the entire shellfish instead of just extracting certain ingredients. Perna Pro also combines Boswellia serrata for supporting overall comfort.
More specifically, GAGs make up the core of all connective tissue, and chondroitin is one of the building blocks of connective tissue. Additionally the loss of chondroitin is directly related to the loss of GAGs, and supplementing these substances supports the maintenance of the synovial fluid in the joint; therefore, Perna supports the health, comfort, flexibility and hydration of synovial fluid and connective tissues in the joint.*
We include manganese in Perna® Plus because Perna needs manganese to function at its optimal level. Manganese also converts the glucosamine into hyaluronic acid (HA), which acts as the "shock absorber" in the joint. MSM is part of a methyl group that supports many vital biochemical processes in the body, including energy production. But it also provides sulfur, which is a vital building block to joints. As a methyl donor (mentioned above), DMG supports MSM's role in joint health more efficiently, in addition its role in many other normal functions in the body.
As you can see, none of these ingredients would create the same result as putting them in a nutritional supplement created to support overall joint health. This supplement is just one example of the many products that we have created to support the health and well being of our customers and your clients.
What makes many of our bone and joint products unique is the inclusion of our flagship ingredient, N,N-Dimethylglycine (DMG). DMG is a naturally occurring amino acid derivative and a methyl donor that supports the body's metabolic processes.* We have combined DMG with our Perna canaliculus (GlycOmega™ brand) green-lipped mussel from New Zealand (along with other highly-researched ingredients) to provide a wide array of products to supplement joint comfort and hydration.* We also make specialty products for people looking for specific bone health properties, such as bone structure, strength, and growth, as well as general joint health. - See more at: http://davincilabs.com/blog/the-combination-of-dmg-and-perna-for-bone-health/#sthash.0B5avVbI.dpuf
What makes many of our bone and joint products unique is the inclusion of our flagship ingredient, N,N-Dimethylglycine (DMG). DMG is a naturally occurring amino acid derivative and a methyl donor that supports the body's metabolic processes.* We have combined DMG with our Perna canaliculus (GlycOmega™ brand) green-lipped mussel from New Zealand (along with other highly-researched ingredients) to provide a wide array of products to supplement joint comfort and hydration.* We also make specialty products for people looking for specific bone health properties, such as bone structure, strength, and growth, as well as general joint health. - See more at: http://davincilabs.com/blog/the-combination-of-dmg-and-perna-for-bone-health/#sthash.0B5avVbI.dpuf