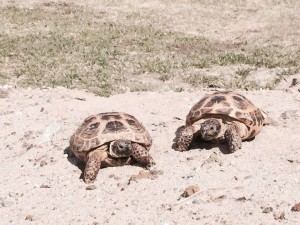 Everyone's heard that you must hydrate when you're sick. But why hydrate when you're healthy? One big reason: water helps you detox--by helping to form the liquids that carry normal toxins out of your body, effectively flushing your system while maintaining the lubrication your body needs to function smoothly.
Water can help cleanse your digestive system and encourage fluid circulation, which will help you eliminate wastes on a more regular basis - and generally feel good.
With detox on the mind, we looked back at our guest writer Karen's tips for water haters - and her reminders of why hydration matters.
By Karen Sturtevant
Zippy and Zoey are my Russian tortoises. Their lineage originates from the dry, arid regions of Afghanistan, Northern Pakistan and the Soviet territory, Kazakhstan. They can go days, even weeks, without water.
What liquid they do get comes primarily from their diet of deep greens (kale, spinach, Romaine lettuce). I give them a bath once a week and if thirsty, will drink then. They don't have access to water and don't care much for it when it is offered to them. You and I are not tortoises and need water for survival and to function at our best.